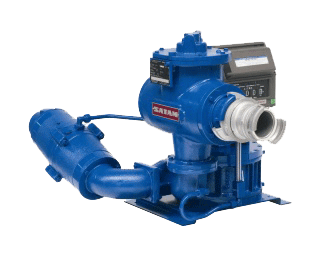 With integrated air separator
ZCE11-80 measuring unit is specific for the gravity emptying of a tank to underground storage. It is fitted with an automatic gas elimination system linked to the dosing valve. This provides total reliability of the volume measurement even at the start and end of unloading with a partially empty hose configuration. The entire
transferred product can be measured with enhanced accuracy. This measuring unit can be supplied with an electronic or mechanical register. The mechanical version is totally self-powered.
Sectors of application
Tanker truck unloading operation
Measurement of white product and biofuels
Key points
No need for power supply for mechanical register version
Simple and robust construction with minimal moving mechanical components
Can be mounted on a trolley as a mobile metering unit
Metering system supplied fully assembled and factory tested in order to ensure a maximum reliability
Measurement accuracy guaranteed over a period of many years without any deviation in the calibration curve
Performances
Accuracy volume : < + 0.15% – Option < + 0.1%
Repeatability: < + 0.02%
Maximum flow rate: 45 m3/h – 750 L/mn
Measured liquids: Petrol, premium fuels, diesel, E5…E85, bio-diesel, ethanol, methanol, kerosene, fatty acid methyl ester oils
Gas elimination device – Stainer: included
PD meter: model ZC17-80
Stop valve: controlled by gas elimination device