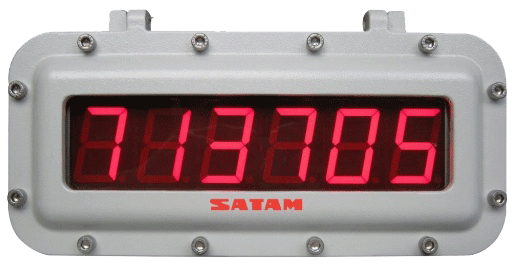 For maximum readability
DIR 12 is a large display unit for indication of volume or mass. It is designed for installation on aircraft refuellers, hydrant dispensers and tank truck loading stations. DIR 12 can be connected directly to flow computer via data bus or via frequency input. It operates as a repeater of flow computer displayed volume.
With its configurable pulses input, DIR 12 can also directly display the volume or mass measured by a flowmeter. Binary input of DIR 12 will be used for resetting the totalizer at the end of the batch.
 Sectors of application
Refueling of planes and helicopters
Tanker truck and rail car loading and offloading
Delivery of heating oil to individuals
Delivery of fuels to service stations
Delivery of fuels to worksites, ships, boiler rooms
 Key points
Outstanding readability thanks to large sized LED technology
Total volume displayed in real time with a six digits technology
Direct connection to flow computer without the need for any configuration software
Flame proof housing for installation in explosive area and for a maximum ruggedness
Flashing display in case of abnormal event