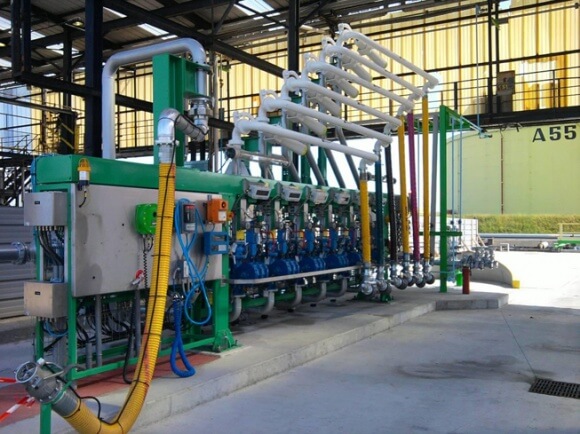 Skid mounted loading systems for tank-truck
In order to answer to an increasing demand for ready to use loading systems for tank-truck, Satam has released a complete skid mounted loading system for fuels trucks loading. Developed according to the specifications of a major French Oil & Gas company, the skid mounted loading system has six bottom loading arms. It is equipped with six vertical compact metering systems ZCE5 Equalis. Each ZCE5 is equipped with strainer gas eliminator EC29, XAD multifunction valve, ZC17 PD meter and Equalis  flow computer. The skid is fully assembled, wired and tested in Satam production facility. Therefore The installation and comissionning time on depot is strongly reduced.
The operator selected Equalis flow computers because of extensive functions for truck loading and important capacity for communication between the gantry and the supervisory system. Each loading arm is equipped with Equalis for control of loading operation, additive injection, secured archiving of transactions and real time communication with supervisory system.