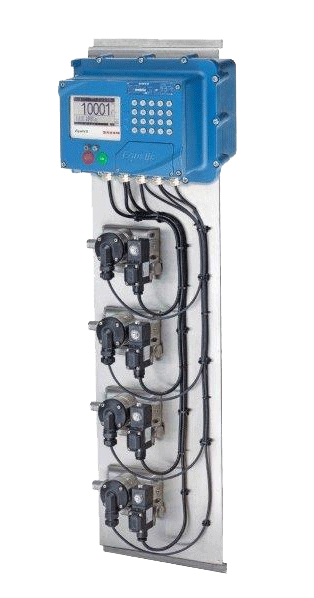 Additive injection module AIM
Central to the AIM block is a high precision oval gear positive displacement meter with pulses output proportional to the injected volume. The second key element of the AIM is the solenoid valve to control the additive injection volume. A fast direct acting valve with a ruby seat allows for high velocity flows through  a small 3mm orifice providing minute proportion control even at high injection pressures and liquid changing temperatures. AIM is controlled by Equalis S. It accurately injects small amounts of additives to a base product. Measured additives can be lead replacements, dyes and markers, denaturants, detergents, odorizing, antifreeze, anti-corrosion, anti-detonating, anti-static, anti-icing, anti-foaming, emulsifiers and performance enhancing agents.
Additive controller Equalis
Equalis S controller is designed to operate as single or multi-point additive injection controller. It is capable of controlling from 1 to 12 additives injection modules (AIM) operating simultaneously or individually in any combination. Compatible with terminal automation systems, Equalis S can operate in both stand alone or online mode. Multi levels of security by way of user defined PIN numbers for Service Personnel and Management ensure system integrity. Equipped with a durable "antivandalism"key pad for menu driven configuration, Equalis S can also be PC configured. Its wide graphic display provides easy to view measuring and configuration information for both users and service personnel. Equalis S is a multifunctional device : it an operate as a standalone additive injection controller or as a loading batch controller with additivation and blending functionnalities.
Sectors of application
Additives injection during tank-truck loading
Additives injection during preparation of aviation fuels
Colouring and marking of heating oils and taxes reduced fuels
 Key points
Comprehensive additives injection system compatible with most existing meters fitted with pulses transmitter.
Can control the injection of 1 to 12 additives per measuring line
Automatic calibration of the additives meters
Display of additive(s) and main product volumes
Display of additives concentrations (ppm)
Direct communication with Terminal Automation System
Can operate as a stand-alone unit
Performances
Meter accuracy: < ± 0,5 % for viscosity 3 mPa.s
Repeatability: < ± 0,25 %
Injection flowrate: 0.01 L/mn à 10 L/mn