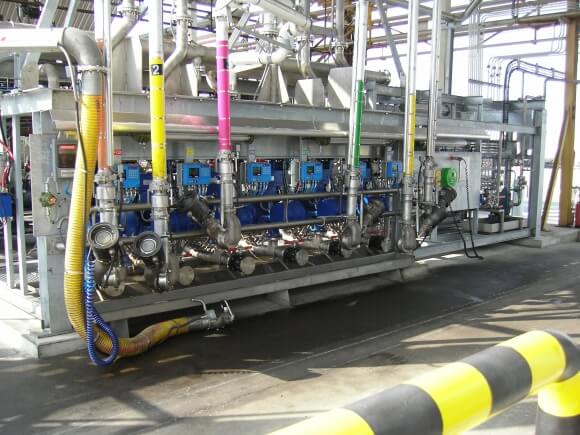 In a context of

 

increased competition,

 

this major oil depot located 

in southwest

 

France has

 

launched an up-grading and a 

renovation of their trucks loading gantries

.
The objective of
the operator
for this project
was threefold:
Increasing

 of loading 

cadences

Enhance safety

 

on

 

the

 truck 

loading area

Enhance the versatility of

 

each loading station

 

diversifying

 

fuel types

 

available

 

per arm
After an on-site audit and a detailed feasibility study, the Satam engineering team developed the technical solution according to rigorous specifications.
Satam performs the renovation of 10 gantries representing 55 bottom loading arms and 2 top loading arms. Each loading arm is equipped with a ZCE5 vertical metering group including ZC17 PD meter and Equalis flow computer. Each flow computer can control the injection of 8 different additives in order to prepare specific fuels for 8 different oil companies (Total Esso, Shell, BP, Udp,Dyneff Picoty, Bollore).
Each island is also equipped with a mixing arm and ZCE25 blending system  for preparation ofbiofuels.
Each Equalis receives the loading instructions from the supervisory system and manages the loading operations of the vehicle allowing simultaneous delivery of 4 products.