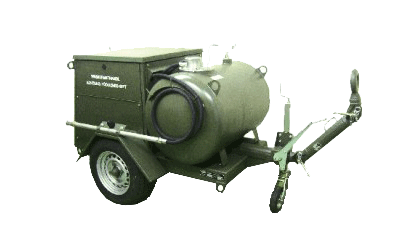 Accréditation OTAN n° FO 199
Under NATO FO 199 accreditation , the liquid collectors and dispensers product range is designed to refuelling of supporting vehicles for the air force, partial refuelling of jet engine tanks and  hydraulic circuit, collection of waste fluids on the tarmac or in the air shed.
This product range is available into the following versions:
Transportation and distribution trailer for mixture water-methanol (medium for post combustion jet engine power improvement)
Oil and aggressive liquids distribution equipment on trolley or on skid (complement or drain of gear box, hydraulic fluid tanks for various rolling or flying equipment.
Colors distribution equipment: It is designed to fill the colored smoke generator components tanks used by the Patrouille de France for airshows.
 Main applications
Refuelling of Air force support equipment
Partial refuelling of jet engine tank, hydraulic circuits…
Collection of waste fluids on the tarmac or in the air shed
Key point
Customized solutions for refuelling and maintenance of military equipment and aircraft
Performances
Tank volume: 10 to 1000 L
Fluids : fuels, lubricants, antifreeze, hydraulic liquid
Design: mobile unit with trolley and optionally self powered pump